»

Grandma
Grandma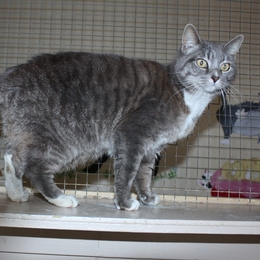 Grandma is a super nice 8 year old kitty who was relinquished to us with her two furkids and two other feline roommates because the mother in the family did not have time for them and the children in the family did not want to take care of them.
Grandma and one of her furkids who is also here, Momma, are FIV positive kitties.
FIV belongs to the same family of viruses as HIV (human immunodeficiency virus) and immunodeficiency viruses in other species. This family of viruses (Lentiviruses) is known for being species-specific, for life-long infection, and for slowly progressive diseases. FIV is not transmissible from cats to people or cats to dogs. FIV is known to be present in the blood, saliva and cerebrospinal fluid of infected cats. However, the virus is extremely fragile and does not survive outside the cat's body. Therefore, the main method of transmission of FIV from one cat to another is through a bite wound during a cat fight.
That being said, remember that Grandma and Momma are 7 and 8 years old and have stayed healthy for all that time.
It be wonderful to have this mother/daughter duo adopted together, but we are also very willing to have them each find a home of their own.